Would you like to take the next step in your career and are looking for professional support? With the decision who your support in your career planning is, you lay the grounds for a successful development in your occupation. We are here to support you, with professionalism, competence, extensive experience and a versatile toolbox.
We at the Career & Corporate Services are convinced that the above-mentioned combination of qualifications is essential for our counselling sessions with experienced professionals. We convince with a high level of professionalism combined with an extensive theoretical know-how. By being in contact with companies on a daily basis we make sure we are up to date with the practical relevance as well. This helps us to give you the best support possible.
Regardless whether you are at the beginning of planning your next career step or already actively looking for a job – we focus on your individual starting point such as:
Which situation you are currently in
How you can plan your next steps efficiently
Ways to make you stand out
Optimize your application competences
How to put yourself in the best light and being authentic at the same time
How to structure your options to make the right decision
Our career coaches are looking forward to meet and work with you.
The Career & Corporate Services of the University of St.Gallen is the competence center for career related topics. Our counselling sessions are solution orientated: Originated from your potential, your competences, your values and interest – we help you to unfold this potential adjusted to the job market.
Our counselling sessions are shaped by the following values:
Solution orientated
Together we elaborate realistic-, feasible-, mid- and long-term goals. According to that we define your next steps.
Personal
Being the project leader of your future, you decide on the topics. We adapt those in line with our values and adjust the structure.
Honest
We are a critical partner. You will receive honest and direct feedback to help develop yourself.
Respectful
We strongly believe in diversity and the potential of every person. This respect of individuality is the fundament of our relationship.
Professional
All our coaches are qualified and have extensive know-how in HR and/or the private sector. We see ourselves as your sparring partner for your career development.
Customized
We are convinced "one size does not fit all". Together we work out tailor-made solutions.
Benefit from our broad variety of consulting services. We support people with a tertiary education and any numbers of years of working experience. If you have a different profile – contact us.
1:1 consulting
Discuss your questions and challenges with our experienced coaches.
Your individual career topics
Duration: individual
In addition to our individual consulting services, we offer you the following, specific one-on-one counselling sessions:
Career exploration
Duration: 90 min.
Search strategy
Duration: 60 min.
Application documents
Duration: 60 min.
LinkedIn
Duration: 60 min.
Interview training
Duration: 90 min.
Video interview
Duration: 90 min.
Decision-making
Duration: 90 min.
Salary negotiation
Duration: 60 min.
USP (Unique Selling Proposition)
Duration : 90 min.
The price is CHF 190.- (excl. VAT) per 60 minutes. The counselling session is taking place physically or via Teams / Skype.
Speak to us to find out more and arrange an appointment.
Tool : HSG Career Profiler
To evaluate your individual profile we designed our own tool. The HSG Career Profiler helps you to reflect on your career and us to give advice on the highest level. It takes about 20 minutes to complete it.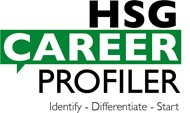 Fill in the HSG Career Profiler now
Contact
If you have questions about our offer we are happy to discuss it with you.